Test 10
WRITING TASK 1
You should spend about 20 minutes on this task.
The charts below show the total number of minutes (in billions)of telephone calls in the UK, divided into three categories, from 1995-2002.
Summarise the information by selecting and reporting the main features, and make comparisons where relevant
UK telephone calls, by category, 1995-2002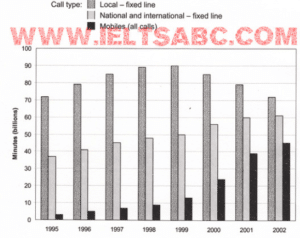 WRITING TASK 2
You should spend about 40 minutes on this task.
Write about the following topic:
Some people believe that unpaid community service should be a compulsory part high school programme (for example working for a charity, improving the neighborhood or teaching sports to younger children)
To what extent do you agree or disagree.
Give reasons for your answer and include any relevant examples from your own knowledge or experience.
Write at least 250 words.