Spoken English Course in Delhi:
English is a global language which is immensely popular in upgrading an individual's level of personality as well as boosting the growth of the business. Learning and adapting this language is extremely beneficial to enhance your personality and boost the career growth of a person. However in India people find it quite challenging to communicate in this language whether verbally or in written English.
Our Spoken English Course in Delhi is designed to train students to be proficient in this language and learn to speak in English confidently and fluently. Our education system does not make it a mandate for school students to communicate in this language that's why they are unable to communicate using this popular and much in demand language which makes them hesitant at their work place .This course includes all the practical aspects of communication teaching students the functional grammar and vocabulary which is sufficient enough to be incorporated in their day to day life. People are aware of the importance of this language but are reluctant to use it in their social life often as they are unsure of its appropriate use.
English plays a very important role in the overall personality development of the individual. It is counted as an official language of many countries. People in every corner of the world are enrolling in schools and online classes to bring fluency in their language.
Join Our Online Spoken English Classes :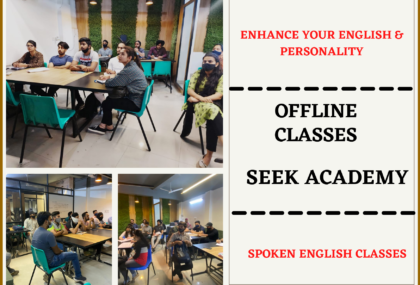 Our Online Spoken English Course in Delhi is very helpful for the people those who have progressive approach in their life and want to work hard to get the best in their life .Incorporating English would certainly help you to have what you want as it would directly lead to the professional growth and personality enhancement which could provide you the best job opportunity in the industry with the best pay packages.
Spoken English course includes functional grammar, vocabulary and activities which help you to boost your confidence level up which is required to be successful in career .Seek Academy provides training on verbal as well as written communication to the candidates and conducts timely assessment also which helps the learners to have understanding of their current level. Different activities consisting group discussion and debates sessions, Role plays, extempore develop the confidence of a person which can modify their current personality into a better one.
Reading Books and newspapers are good practices one can follow but you need guidance consistently which is provided by us .The on line platform which is given helps the students to grow in their communication skills and be a proficient user of this language.
Empower your communication skills
Be an effective conversationalist.
Enhance your fluency to be a more impactful speaker.
Increase your confidence.
Excel in your vocabulary usage.
Attain good presentation skills.
Learn how to speak in English fluently :
Highly effective material to empower students communication skills in a short period which is designed by the experts in the industry to help students to be the best in their English skills whether verbal communication or written.
Understand the concept of functional grammar.
Learn to differentiate between verbal communication and written communication.
Enrich your vocabulary bank.
Actively participate in Group Discussions.
Fun learning Activities to increase confidence.
What we teach in Spoken English ?
Extensive grammar exercises
Brainstorming activities to increase confidence.
Group debate sessions for perfect practice in a group.
Learn Basic communication
English for Drafting Mails
Meeting and Presentation handling Skills
Interview Handling
Grammar and Vocabulary enhancement
Our Mock Sessions Include :
Interview 
Grammar and vocabulary test
Presentation/Meeting handling test + Mail Drafting 
What you learn at Seek Academy ?
Things You Learn Here
General English Speaking course
Courses offered as per the requirement of the candidates
Public Speaking courses
Advance English classes for corporate
English for job seekers. (includes interview training)
Practical Sessions
Advantages of Joining Seek Academy :
Individual attention
At Seek Academy every student is provided attention which helps them to enhance their language skills and make them proficient in this language. Small groups which help in focusing individual student.
Study material
Ample of study material is given to the candidates with practice exercises which enables them to work on their weak areas and be familiar with the correct pattern of the language.
Regular assessment
Every student is supposed to appear in the regular assessment which helps them to grow with the further training programme.
Professional atmosphere
Seek academy provides professional atmosphere to its students so that they can learn whatever objective they have come here with.
Result oriented team members.
All the faculty members at seek academy are result oriented highly competitive to train the students to be highly skillful and fluent in this language.